Lawrence Fine is a recognized authority on the subject of youth soccer coaching, with a proven track record of providing high quality coaching information that has helped thousands of coaches all over the world become better coaches.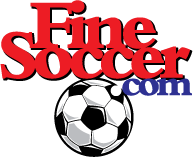 In 1999 Fine, launched FineSoccer.com, a web site that quickly grew to an audience of over 40,000 coaches worldwide.  Due to a high demand for his coaching advice, Fine launched a series of five email newsletters that are published weekly.  To date Fine has written and published over 3,000 articles that have helped tens of thousands of soccer coaches in countries all over the world.
Fine has coached for over 25 years at the college, high school, youth and PDL levels.  With a willingness to share his knowledge, Fine has dedicated his time to helping an ever-growing and enthusiastic following by providing them with FREE coaching drills, exercises, tactics and training sessions that will help them improve their coaching skills and improve the skills and technique of their players.
Lawrence Fine has authored six soccer coaching books that have covered topics like "Coaching Young Players", "Coaching the Goalkeeper", "Coaching Small-Sided Soccer", and "Soccer Drills and Exercises".  These books have helped thousands of coaches worldwide improve their training sessions and make soccer more enjoyable for their players.
Fine has also authored articles for the National Soccer Coaches Association of America, Kwik Goal, US Youth Soccer and many other organizations and publications from around the world.