Please Note: This 50% discount is a special offer that is not available to the general public…
This offer is only available now and at the special 50% discount because you have ordered the free eBook.
The FineSoccer Coaching Bible consists of 10 videos and 6 eBooks…enough to last you more than a full season and still have ideas left over for next season…and you can get it for the ridiculous price of just $23.50.  Just click any of the links and the discount will automatically be shown in your final total.
It's true! You can now gain instant access to the 'FineSoccer Coaching Bible' – an all-in-one coaching program packed with innovative training techniques taught by youth soccer coaching expert Lawrence Fine to over 40,000 soccer coaches from around the world!
Are you struggling to make youth coaching sessions more invigorating and challenging? Are your players bored of running through the same tired old drills, week after week? Are you stuck for ideas on how you can improve your team's performance and take them to the next level?
Well, worry no longer: The FineSoccer Coaching Bible is a comprehensive youth soccer coaching program that contains everything you need to transform your training sessions. Using the latest innovative soccer drills and training techniques, the FineSoccer Coaching Bible is a training program designed specifically for young players and shows you how to deliver more inspiring and effective soccer training sessions.
The FineSoccer Coaching Bible has been created and written by Lawrence Fine – an expert on youth soccer with 25 years of experience coaching youth teams. Over 40,000 coaches from all over the globe use his soccer drills which are now collected together and available in this special all-in-one coaching program.

'A Comprehensive Soccer Coaching Program for Helping Young Players to Learn, Develop and Improve'
The FineSoccer Coaching Bible is a coaching program which includes six soccer eBook coaching guides packed with new drills and training exercises. The guides are all carefully structured to focus on a specific key area and to help players learn, develop and improve with every training session.
The FineSoccer Coaching Bible is packed with a library of drills designed for youth players. This includes drills focused on attack, zonal defending, technical skills exercises and drills for keeping possession.
In addition, the FineSoccer Coaching Bible includes a progressive series of soccer coaching videos by Stuart McLaren and Dean Simpkins. These videos follow the high standards and attention to detail of Lawrence Fine's methods and demonstrate step-by-step how to coach your team in building play from the back and the vital skill of creating space so you can push up the field and score more goals more often.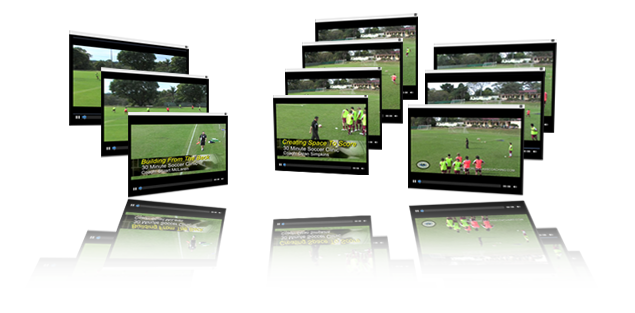 'Learn from an expert with over 25 years of experience'
Lawrence Fine is recognized globally as a leading expert on youth soccer coaching. For over 25 years he has coached youth teams at a wide range of levels, including college, high school, youth and PDL teams.
Drawing on his extensive coaching experience and real world knowledge on which soccer drills are the most motivating and effective, Lawrence has written a number of soccer coaching books and guides. He also written articles for leading youth soccer coaching publications, including the National Soccer Coaches Association of America, Kwik Goal and US Youth Soccer.
Lawrence's website FineSoccer.com is a key source of information for coaches all over the world, and has been running since 1999. Over the last decade, Lawrence has amassed an extensive online library of over 10,000 articles on the latest innovative approaches to youth soccer training, the best soccer drills, suitable exercises for youth players, team tactics and training tips.
Lawrence also produces one of the most popular soccer training email newsletters on the internet. It has a subscription base of over 40,000 soccer coaches from all over the world and all manner of levels, from youth and recreational coaches to those coaching at a professional club level.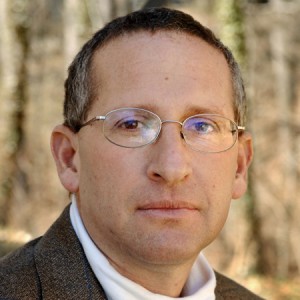 'It's like having an expert by your side in training'
The FineSoccer Coaching Bible is a digital product that can be accessed online 24/7 and even on portal devices, such as a smartphone or tablet PC. This means that, rather than having to memorize soccer drills from watching a DVD or having to carry a pile of training manuals down to the pitch, you can access the drills quickly on your handheld device.
The FineSoccer Coaching Bible can be used to quickly change training sessions on the fly, drop in new drills at a moment's notice and adjust sessions based on the area you think needs most work.
With access to a library of training drill guides and videos at your fingertips, no two training sessions need ever be the same again.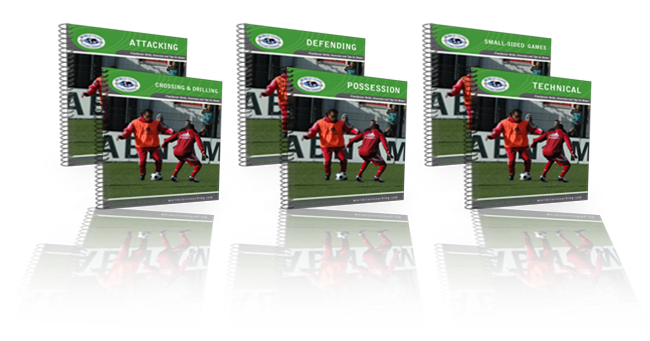 What You Get – 10 videos and 6 eBooks
6 eBooks focused on key areas of youth soccer skills development
1. Score More Goals with FineSoccer Attacking Drills and Exercises eBook

Putting your players in lines taking shot after shot on goal from the same position isn't the best way to develop their goal scoring instincts or awareness around the box. It's not game-realistic and your players will quickly become bored. Instead, this eBook shows you how soccer drills and exercises that will put your players in pressurised game-like situations. This will make attacking drills more realistic and challenging, and means your players will be better prepared when they find themselves in real attacking situations in a game.
2. Cut through opposing defenses with FineSoccer Crossing Drills & Exercises eBook
Crosses and set pieces always pose a danger for defending teams. Attacking with wide midfielders down the flanks can also create 1v1 situations that favor the attacking team and stretch the opponents' defense so they lose shape and composure. The FineSoccer drills and exercises eBook runs you through a variety of soccer drills that will teach your players how to make the best use of wide positions and corners to maximise your goal scoring opportunities.
3. Dramatically improve individual technique with FineSoccer Technical Drills and Exercises eBook
When coaching a youth team it's vital to work on individual skills, both to create a better team but also to give young players a strong platform on which to develop. FineSoccer technical drills and exercises eBook provides a variety of soccer drills taught by Lawrence Fine for over 25 years to improve passing, first touch, dribbling, shielding, shooting, and more.
4. Keep Possession with FineSoccer Possession Drills and Exercises eBook
Keeping possession of the ball has always been one of the key attributes of the world's best team. As long as you have the ball, you always pose a threat. This eBook will show you how to coach your team so they both understand the importance of maintaining possession and know what tactics to deploy to keep the ball moving around effectively while they have it.
5. Let your players learn through practice with FineSoccer Small-Sided Games eBook
Small-sided games are a great way to replicate real game situations and to enable your players to put into practice the skills they've developed in training drills. In this eBook, Lawrence Fine shows how to use small-sided games as a transitional tool from drills and exercises to real game situations.
6. Defend Like Champions With FineSoccer Defending Drills and Exercises eBook
It's often said that defense can be the best form of attack. As long as you have confidence in your defense then you can afford to wait for the right opportunity to counter attack. Defending effectively requires organisation, area awareness and good tackling ability. This eBook covers practically all aspects of defending, whether it's individual 1v1 defending skills, group defending principles or team defending tactics.
10 Step-by-step videos on team tactics and attacking strategies
Building From the Back Part 1 – Maintaining possession in the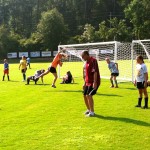 defensive third and building up to an attacking situation takes lots of practice and game-situation training. This first video shows functional practices that will help your goalkeeper and back four defenders to develop their situational awareness and feel comfortable maintaining possession in the back third of the field.
Building From the Back Part 2 – This video progresses from Part 1 and adds center midfielders, showing the best ways they can link up with the defenders to provide outlet options.
Building From the Back Part 3 – Further progressions are shown in this video with the addition of forwards.
Creating Space To Score Part 1 – The first video in this series shows a number of drills to teach forwards how to turn with the ball quickly and safely. It also introduce the technique of "checking" away before moving to receive the ball into the space they've created.
Creating Space To Score Part 2 – Double movements to create space and lose defenders are introduced as well as passes into space.
Creating Space To Score Part 3 – In this video, the double-pass is explained and the importance of playing off the back foot.
Creating Space To Score Part 4 – A third player is now introduced to put the earlier techniques into the early stages of combination play.
Creating Space To Score Part 5 – This video progresses the earlier techniques into a functional game with pressure from defenders. Communication and "cues" are now important so that players know when and were they should pass the ball.
Creating Space To Score Part 6 – The functional practice is now progressed to include more players and goal scoring opportunities.
Creating Space To Score Part 7 – The final progression adds a target player. Players are now creating space for themselves and their teammates, while looking for cues and communicating with each other to determine when and where to pass.

What you gain from the FineSoccer Coaching Bible
The FineSoccer Coaching Bible is the accumulation of over 25 years worth of soccer coaching experience in one comprehensive package. Lawrence Fine knows from on-the-ground experience what works and what doesn't when training youth soccer teams.
From his coaching program you will gain:
A library of innovative soccer drills and exercises you can drop into training sessions at a moment's notice
Videos that show you and your team in stages the key principles and tactics in how to build from the back and how to create space to score
Training sessions will become more motivating, challenging and effective
Your players will look forward to the new drills and exercises. Training will become fun and challenging, rather than a tiring chore
The soccer drills used in the program have been selected for their effectiveness in coaching youth soccer. This focus means the program is designed for achieving the biggest youth teams, rather than adapting soccer drills for senior players which might not be appropriate for developing players
Increase your coaching knowledge with insights from one of the experts in youth soccer coaching
Improve your soccer coaching education without having to spend $100s or even $1000s on training seminars to gain the same knowledge
We want every youth soccer coach in the country to have a copy of the FineSoccer Coaching Bible. That's why we're offering a package worth $1000s, in terms of coaching knowledge and experience, for the low price of $47.
Order your FineSoccer Coaching Bible today and you will get instant access and be able to view the eBooks and videos within minutes…then start seeing the improvements in enjoyment, motivation and performance of your young players on the training field.
100% 'no quibbles' refund guarantee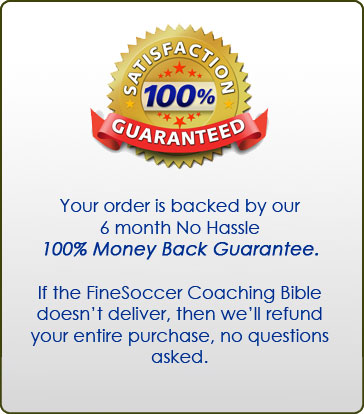 Lawrence Fine's Fine Soccer Coaching Bible contains the same youth soccer drills and training exercises taught to over 40,000 coaches all over the world. They have been proven, time and again, to be effective in motivating young players and in improving their performance. However, if you are not 100% satisfied with the quality of the Fine Soccer Coaching Bible after six months of implementing its drills and exercises then please contact us for a no quibbles refund.
'A complete youth soccer training program that makes every training session more invigorating, enjoyable and effective'
When training young players it's vital that they enjoy training sessions as well as develop a solid foundation of skills on which to grow. If you are simply running them through the same drills and exercises, week after week, they are not going to feel challenged or invigorated, and certainly won't look forward to training.
Lawrence Fine's FineSoccer Coaching Bible is designed specifically for coaching young players. From his 25 years of experience, Lawrence knows exactly which drills are the most effective for helping young players to learn, develop and improve.
Find out for yourself why  40,000 soccer coaches from around the world use the soccer drills and exercises taught by Lawrence, by downloading his FineSoccer Coaching Bible youth soccer training program right now.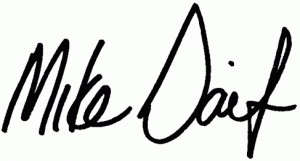 Mike Saif
WORLD CLASS COACHING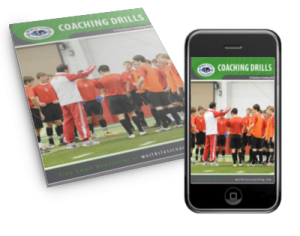 P.S. The FineSoccer Coaching Bible is a complete youth soccer training program. Its library of six eBooks and ten videos is designed specifically for coaching youth soccer teams and for making every training session more challenging, enjoyable and effective. Find out for yourself why over 40,000 coaches subscribe to Lawrence Fine's soccer training tips by downloading your copy of the FineSoccer Coaching Bible today.
P.P.S. If you are not 100% satisfied with the quality of the FineSoccer Coaching Bible's soccer drills and exercises after using them in training for three months then please contact us for a 'no quibbles' refund.
[wpsharely id="1444″]Thanks For Sharing[/wpsharely]