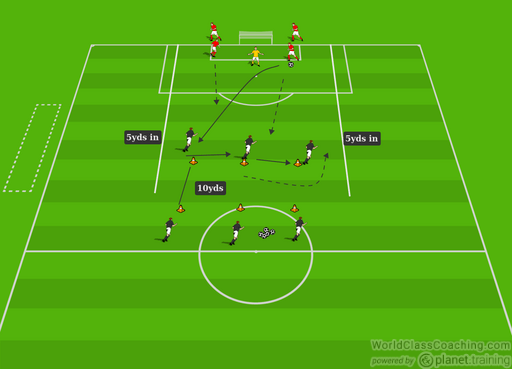 By Sean Reed –
Objective
This session focuses on forward runs, breaking the lines to create goal-scoring opportunities.
Set Up
• 2 teams (5v5 upwards) with 2x GK
• Pitch is 25-30yds wide, depending on the number of players
• 18yds each GK area and middle area 25-30yds
• Ball starts with GK, one player from the attacking team can drop in to receive the ball (unopposed)
• Ball is played into the area and the team in possession are looking to create opportunities by playing a pass into the attacking third, where only 1 player is allowed to go into it
• The player making movement into the attacking zone must time their run, and can not be in there before the ball is in there (space, ball, player) or before the ball is played (depending in the coach)
• Once in the final third the attacking player has 2 touches to shoot
• If the team score they retain possession from their GK
• See Diagram 1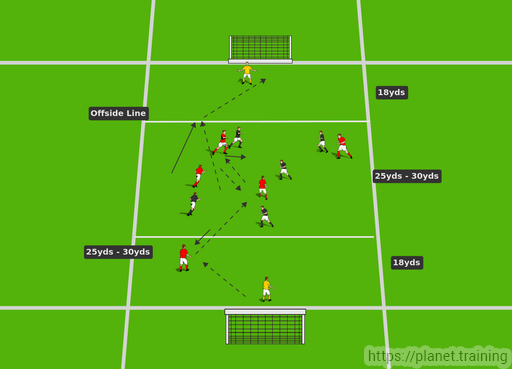 Progressions
• Restriction on touches
• Number of passes before a forward pass can be played into the attacking third
• When the player drops down to receive the ball from the GK, an attacking player can drop in to create a 2v1
• As above, but another player can drop down to create a 3v1
• See Diagram 2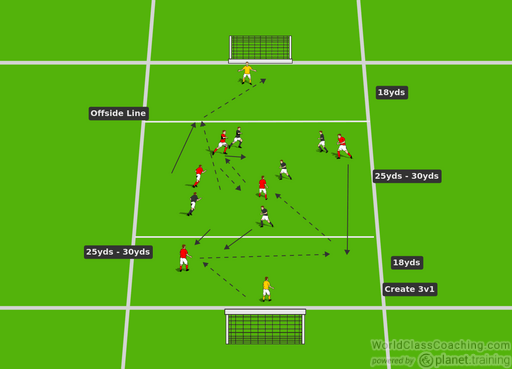 Progressions
• In the attacking third a defender can drop in to defend the attacking player
• As above, but an attacking player can join in to create a 2v1
• See Diagram 3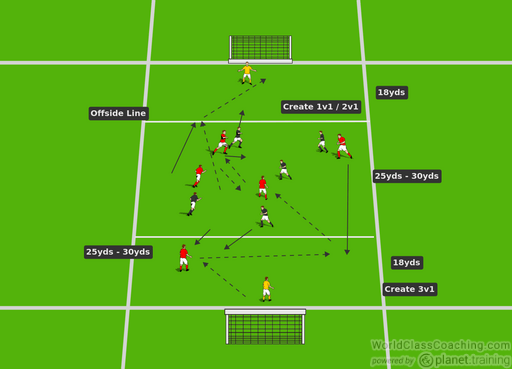 Some Coaching Points – Attacking
• Angles to support the ball
• Looking to play forward
• Support to play back to play forward
• Timing of runs, from deep, across the line
• Creating space for players
• End products
By Sean Reed
Former First Team Coach of Championship side Fulham FC. Sean is a UEFA A Coach with a Masters in Sport Coaching. He has over 15 years of experience working in professional football from Academy through to First team in the Premiership and Championship.
Web – www.seanjreed.com
Twitter – @SeanJReed